Sat, Oct 5, 8:00 pm: Pressenda Chamber Players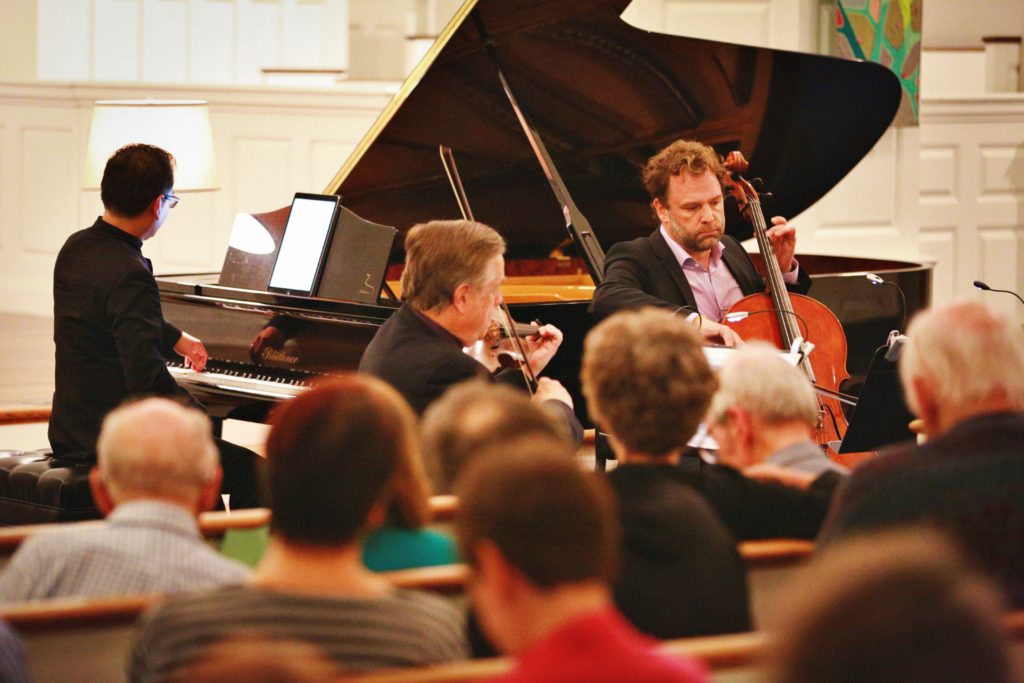 Pressenda Chamber Players will perform Dvorak's Piano Trio in F minor and Piazzolla's The Four Seasons of Buenos Aires during a Conservatory Concert at Westmoreland Circle. Performers include Aaron Berofsky, violin; Tobias Werner, cello; and Ellen Hwangbo, piano. Admission is free with a $20 suggested donation. Families with children are encouraged to attend. An open rehearsal will occur on Friday, October 4, 1:00 pm.

Time: Saturday, October 5, 8:00 pm
Location: Washington Conservatory of Music at Westmoreland Congregational United Church of Christ
Address: One Westmoreland Circle, Bethesda, MD
Parking: Parking is available in the lot on Massachusetts Avenue and along the streets of Massachusetts and Western Avenues. Please do not block neighborhood driveways.
Admission: Free. All donations support the programs of Washington Conservatory.
—
Pressenda Chamber Players, an ensemble of strings and piano founded by Artistic Director Tobias Werner, made its Washington-area debut at Washington Conservatory Concerts in 2016. Since then the ensemble has performed numerous chamber music concerts and seminars to great acclaim. The ensemble returns as Ensemble-in-Residence for the 2019-20 Washington Conservatory Concert Series.
Tobias Werner was the cellist in residence and co-artistic director at Garth Newel Music Center from 1999 until 2012. He is the music director at The Chamber Music Conference of the East, artistic director of VERGE ensemble, ensemble-in-residence at the Washington Conservatory of Music, teaches at Georgetown University, and is an Arts for the Aging (AFTA) teaching artist. He has performed at the Cape and Islands Chamber Music Festival, Villa Musica Mainz, the San Diego Chamber Music Workshop, the Vail Valley Bravo! Colorado Music Festival, the Maui Classical Music Festival, in Carnegie Hall's Weill Recital Hall, Strathmore Hall, the Phillips Collection, the Library of Congress, the National Gallery of Art, the Smithsonian American Art Museum, the New York Society for Ethical Culture, and at Bargemusic.
Violinist Aaron Berofsky has toured extensively throughout the United States and abroad, gaining wide recognition as a soloist and chamber musician. As soloist, he has performed with orchestras in the United States, Germany, Italy, Spain and Canada. He has performed the complete cycle of Mozart violin sonatas at the International Festival Deia in Spain and all of the Beethoven sonatas at New York's Merkin Concert Hall. His 2011 recording of the complete Beethoven sonatas with Phillip Bush has been met with great acclaim.
Pianist Ellen Hwangbo is known for her expressive power and passionate interpretations. A top-prize winner of the Music Teachers National Association's National Young Artist Competition in 2006, she has also performed across Asia, Europe, and North America, with recent performances in Carnegie Hall, Lincoln Center, and Merkin Hall. As a spirited chamber musician, Hwangbo has performed with world-renowned musicians such as Soovin Kim, Colin Carr, Jennifer Frautschi, William Sharp, Hye-Jin Kim, Eduardo Leandro, and Natasha Brofsky, among others.
—
The concert is presented by Washington Conservatory of Music as part of the Washington Conservatory Concert Series.